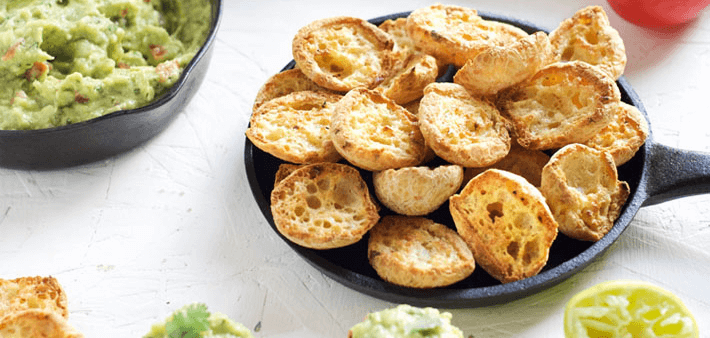 With summer well underway, the last thing you want to do is let yourself fall into a food rut. Let the warm sunshine and gentle breezes inspire you to get a little creative with your warm weather meals. Food is supposed to be fun! From yummy apps to after dinner treats, here are a few ways to feature Brazis in your next weekend cookout. You'll be the star of the show – we promise! ☀
"Chips" and Guacamole
A Brazilian/Mexican mashup? Be still our hearts. This super easy recipe takes 10 minutes to whip up, but you may want to make a couple of batches because it goes fast. When you cut the bites to make your "chips," make sure to flatten them with your palm for maximum scoopability.
Cheesy BBQ Chicken Dip
If grilled chicken is on the menu, throw some on a little early to make an "out of this world" chicken dip for your guests. First, bust out that cast iron skillet that's been hibernating since winter and mix up your chicken with some cream cheese green onion and corn. (Wait it gets, even better…) Line your skillet with two bags of Brazi Bites and place it right on the grill to cook. After 15 minutes, you'll have warm Brazis, a hot bubbling dip and most likely a bunch of friends with burned fingers.
Bourbon Meatball Sliders
Full-size burgers can be kind of…boring. Jazz things up with these cute as a button meatball sliders. They take a bit of prep but with a cold beer and some great music, the time will fly by! Once you get your ground beef prepared, bake the meatball mixture at the same time as your favorite Brazis. Then it's time for that sauce. Just a half a cup of bourbon along with some brown sugar takes this recipe from "Well, these are pretty good." to "Woah, where the heck did you get this recipe?" Feel free to soak up all the accolades, friends!
Now that you've got your menu, all that's left to do is wait for that weekend to roll around. See you at the pool!
The Recipes
Prep Time | 10 Minutes
Cook Time | 40 Minutes
Servings | 6
View Recipe
Prep Time | 15 Minutes
Cook Time | 45 Minutes
Servings | 10
View Recipe
Prep Time | 20 Minutes
Cook Time | 40 Minutes
Servings | 10
View Recipe