Gluten-Free Pizza Dip
Prep Time | 10 Min
Cook Time | 35 Min
Serves | 4-6
This recipe will steal a pizza your heart with cheesy Brazi Bites, zesty sauce, mozzarella cheese, and pepperoni. Crafted by the talented @ems_nutfree_eats.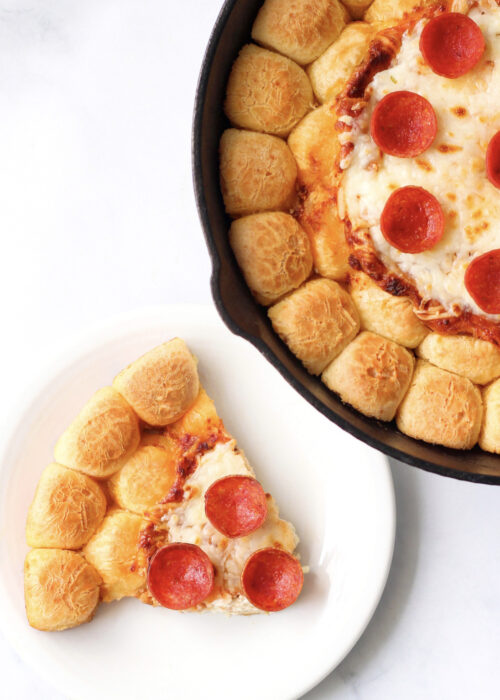 Ingredients
About 32 Brazi Bites (may vary depending on size of cast iron used!)
4 oz. cream cheese (at room temperature)
1/4 cup sour cream
1 clove fresh garlic
3/4 tsp dried oregano
1 tsp salt
Pinch of red pepper flakes
1 cup shredded mozzarella
1/2 cup shredded parmesan
1/4 cup pizza or marinara sauce
Mini pepperoni slices
2

Combine cream cheese, sour cream, garlic, oregano, salt, and red pepper flakes in a small bowl. Stir until well combined.

3

Fold in 1/2 cup mozzarella and all but 2 tbsp of the parmesan cheese.

4

In a 10 inch cast iron skillet, line frozen Brazi Bites around the edge in two rows. Place the cream cheese mixture in the center, flattening down with a spoon to make level.

5

Spoon pizza sauce on top of dip and top with remaining parmesan and mozzarella cheese. Add mini pepperonis to the top.

6

Bake at 400F for 35 minutes. Switch oven to broil for 2 minutes to brown the top of the cheese before serving.
Shop Online
Get Brazi Bites delivered straight to your door.
Shop