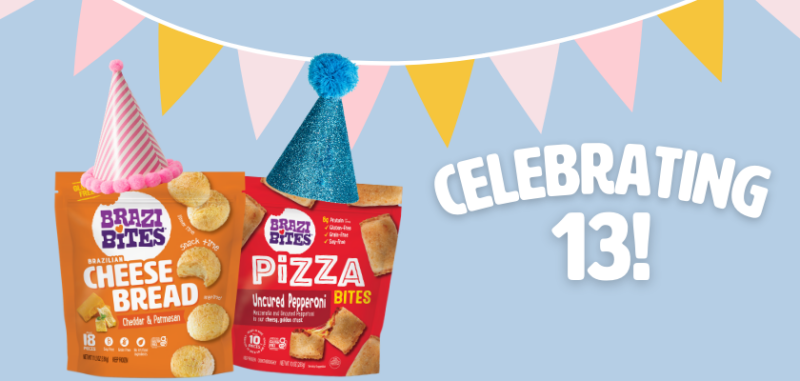 Take a Look Back With Us on 13 Of Our Biggest Moments
It has been a wild and delicious journey, and we're so grateful for your support! Countdown with us as we look back at 13 of our biggest moments.
2010
Testing over 100 cheeses to perfect our recipe.
2010
Taking a Community College class to learn the ABCs of the food industry.
2011
Selling out at our first food show in Portland, OR. Our AHA moment!
2012
Sampling at events in the Brazi Bread Van.
2012
Launching at our very first Whole Foods Market.
2015
Pitching on Shark Tank and being discovered by 9 million people overnight! Selling out nationwide!
2015
Launching at our very first Costco!
2016
Selling over 50 million pieces of Cheese Bread in a year and becoming one of America's Fastest Growing Companies!
2016
Major brand makeover!
2019
Introducing Empanadas! Our signature cheesy crust filled with favorites like beans, chicken, and cheese.
2021
Introducing the first ever gluten-free breakfast sandwich with an innovative crisping sleeve.
2022
Introducing ridiculously tasty, better-for-you Pizza Bites made with our signature cheesy crust.
2022
Launching the Latino Entrepreneur Accelerator Program to give back and uplift minority entrepreneurs in CPG.