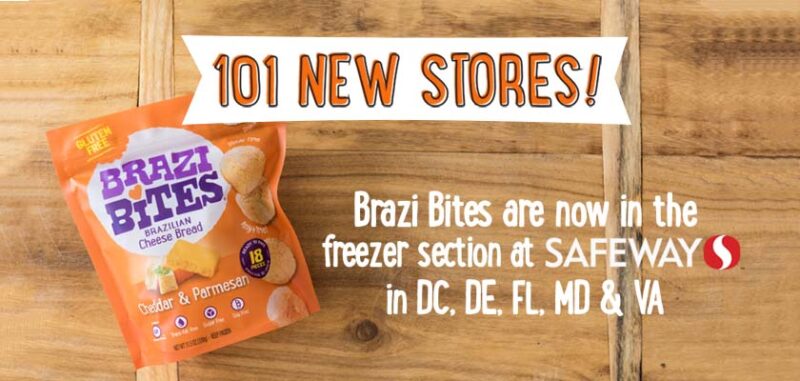 We've added thousands of stores since this blog was posted. Please check our locator to find all the stores near you. 
Exciting news for Brazi fans in Washington D.C., Delaware, Florida, Maryland, and Virginia! You can now find us in 101 Safeway stores in the area.
Look in their freezer section for our 4 delicious flavors: Cheddar & Parmesan, Garlic Asiago and 3 Cheese Pizza.
District of Columbia
 490 L Street Northwest Washington, DC 20001
202.719.2435
 1101 4th Street Southwest Washington, DC 20024
202.554.9155
 1601 Maryland Avenue Northeast Washington, DC 20002
202.398.6903
1747 Columbia Road Northwest Washington, DC 20009
202.667.0774
1855 Wisconsin Avenue Washington, DC 20007
202.333.3223
3830 Georgia Avenue Northwest Washington, DC 20011
202.722.4023
Delaware
190 John Hunn Brown Road Dover, DE 19901
302.730.9100
19238 Coastal Highway Rehoboth Beach, DE 19971
302.226.8410
2522 Foulk Road Wilmington, DE 19810
302.475.8803
Florida
503 East Altamonte Drive Altamonte Springs, FL 32701
407.834.7424
10500 Ulmerton Road #800 Largo, FL 33771
727.581.2112
950 East Commercial Boulevard Oakland Park, FL 3334
954.491.0551
Maryland
10 King Street Annapolis, MD 21401
410.626.2710
2635 Housley Road Annapolis, MD 21401
410.224.8890
1451 Ritchie Highway Arnold, MD 21012
410.919.1000
5660 Baltimore National Pike Baltimore, MD 21228
410.869.8220
2610 Boston Street Baltimore, MD 21224
410.675.3704
2401 North Charles Street Baltimore, MD 21218
410.261.6110
4401 Harford Road Baltimore, MD 21214
410.319.8591
225-0 Brier Hill Drive Bel Air, MD 21015
410.420.2050
7625 Old Georgetown Road Bethesda, MD 20814
301.907.0700
4701 Sangamore Road Bethesda, MD 20816
301.320.1770
5000 Bradley Boulevard Bethesda, MD 20815
301.215.4148
4101 Northview Drive Bowie, MD 20716
301.262.7992
12410 Fairwood Parkway Bowie, MD 20720
301.867.0340
15916 South Crain Highway Brandywine, MD 20613
301.242.9260
1925 Main Street Chester, MD 21619
410.604.0656
8785 Branch Avenue Clinton, MD 20735
301.856.7850
15411 New Hampshire Avenue Cloverly, MD 20905
301.476.8300
5485 Harper's Farm Road Suite A Columbia, MD 21044
410.740.4501
9807 Main Street Damascus, MD 20872
301.391.6146
10276 Southern Maryland Boulevard Dunkirk, MD 20754
301.855.3765
52 West Central Avenue Edgewater, MD 21037
410.919.1156
1313 London Towne Boulevard Eldersburg, MD 21784
541.918.7040
10000 Balt National Pike Ellicott City, MD 21042
410.750.3000
4370 Montgomery Road Ellicott City, MD 21043
410.203.1210
990 East Swann Creek Road Fort Washington, MD 20744
301.965.6000
927 West 7th Street Frederick, MD 21701
301.695.2833
2644Chapel Lake Drive Gabrills, MD 21054
410.451.4750
12251 Darnestown Road Gaithersburg, MD 20878
301.417.0866
20211 Goshen Road Gaithersburg, MD 20879
301.670.1626
19718 Germantown Road Germantown, MD 20874
301.916.8584
7595 Greenbelt Road Greenbelt, MD 20770
301.345.0150
7643 Arundel Mills Boulevard Hanover, MD 21076
410.904.7222
3702 East West Highway Hyattsville, MD 20782
301.955.1941
10541 Connecticut Avenue Kensington, MD 20895
301.945.4273
40 Shining Willow Way La Plata, MD 20646
301.392.1875
815 East Main Street Middletown, MD 21769
301.371.3126
337 East Ridgeville Boulevard Mount Airy, MD 21771
301.829.6517
3333 Spartan Road Onley, MD 20832
301.774.8153
10335 Reisterstown Road Owings Mills, MD 21117
410.998.3820
8858 Waltham Woods Road Parkville, MD 21234
410.882.8822
4211 Mountain Road Pasadena, MD 21122
410.439.4560
9645 Belair Road Perry Hall, MD 21128
410.256.3021
3499 Sweet Air Road Phoenix, MD 21131
410.666.0787
80 West Dares Beach Road Prince Frederick, MD 20678
410.414.7400
5510 Norbeck Road Rockville, MD 20853
301.438.4020
403 Redland Boulevard Rockville, MD
240.683.9533
14939 Shady Grove Road Rockville, MD 20850
301.944.1584
1800 Rockville Pike Rockville, MD 20852
301.945.3608
909 Thayer Avenue Silver Spring, MD 20910
301.565.0686
116 University Boulevard Silver Spring, MD 20901
301.593.7526
1017 York Road Towson, MD 21204
410.296.2267
7605 Crain Highway Upper Marlboro, MD 20872
301.574.1351
10 King Street Waldorf, MD 20601
301.843.2825
3051 Waldorf Market Place Waldorf, MD 20603
301.632.5680
444 Wmc Drive Westminister, MD 21158
410.871.1200
11201 Georgia Avenue Wheaton, MD 20902
301.933.0436
Virginia
7900 Fort Hunt Alexandria, VA 22308
703.765.0924
1624 Belle View Alexandria, VA 22307
703.765.3434
8646 Richmond Highway Alexandria, VA 22309
703.780.3646
6130 Rose Hill Drive Alexandria, VA 22310
703.313.8800
299 South Van Dorn Alexandria, VA 22304
703.751.4827
5980 Kingstowne Center Alexandria, VA 22315
703.921.3125
3526 King Street Alexandria, VA 22302
571.3120029
2500 North Harrison Street Arlington, VA 22207
703.538.6700
5101 Wilson Boulevard Arlington, VA 22205
703.524.1528
3713 Lee Highway Arlington, VA 22207
703.841.1155
12821 Braemar Village Plaza Bristow, VA 20136
703.257.0153
9596 Old Keene Mill Road Burke, VA 22015
703.440.1341
5727 Burke Center Burke, VA 22015
703.323.8784
4215 Cheshire Station Plaza Dale City, VA 22193
703.590.5530
9525 Braddock Road Fairfax, VA 22032
703.978.4604
12200 Fairfax Towne Fairfax, VA 22033
703.359.0523
3043 Nutley Street Fairfax, VA 22031
703.269.2241
7397 Lee Highway Falls Church, VA 22042
703.573.2057
5821 Crossroads Center Falls Church, VA 22041
703.533.3800
6118 Arlington Boulevard Falls Church, VA 22044
703.531.0030
9881 Georgetown Pike Great Falls, VA 22066
703.759.3802
413 Eldin Street Herndon, VA 20170
571.262.2968
437 South King Street Leesburg, VA 20175
703.777.5833
1330 Chain Bridge Road McLean, VA 22101
703.356.6118
7401 Colshire Drive McLean, VA 22101
703.343.1000
6244 Old Dominion Drive McLean, VA 22101
703.538.6539
11120 South Lake Drive Reston, VA 20191
703.620.3400
2304 Hunterswoods Plaza Reston, VA 20191
703.716.4193
30 Pidgeon Hill Sterling, VA 20165
703.430.1192
22350 Sterling Boulevard Sterling, VA 20164
703.948.1080
189 Lee Highway Warrenton, VA 20186
540.347.7909
4220 Merchant Plaza Woodbridge, VA 22192
703.590.1057
2205 Old Bridge Woodbridge, VA 22192
703.494.8858