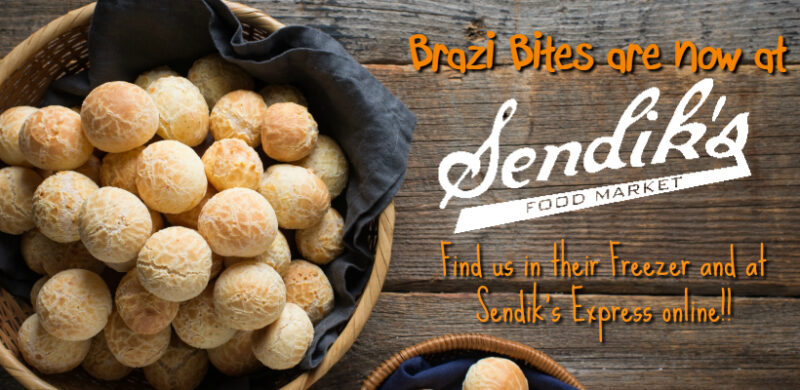 We've added thousands of stores since this blog was posted. Please check our locator to find all the stores near you. 
We are bringing our cheese bread to the land of cheese!
You can now find Brazi Bites at Sendiks Food Markets in Wisconsin! Look for Brazi Bites in their freezer section, or stay home and order online from Sendiks Express.
Visit our store locator to find your store: store locator.
Sendik's Markets in Wisconsin
13950 West North Avenue Brookfield, Wisconsin 53005
262-782-9330
13425 West Watertown Plank Road Elm Grove, Wisconsin 53122
262-784-9525
5200 West Rawson Avenue Franklin, Wisconsin 53132
414-817-9525
N112 W15800 Mequon Road Germantown, Wisconsin 53022
262-250-9525
2195 1st Avenue Grafton Wisconsin 53024
262-376-9525
7901 West Layton Avenue Greenfield, Wisconsin 53220
414-329-9525
600 Hartbrook Drive Hartland, Wisconsin 53029
262-369-0900
10930 North Port Washington Road Mequon, Wisconsin 53092
262-241-9525
3600 South Moorland Road New Berlin, Wisconsin 53151
262-696-9525
8616 West North Avenue Wauwatosa, Wisconsin 53226
414-456-9525
280 North 18th Avenue West Bend, Wisconsin 53095
262-335-9525
500 East Silver Spring Drive Whitefish Bay, Wisconsin 5321
414-962-9525