Yellow Grits and Pork Soup (Péla Égua)
Prep Time | 35 Min
Cook Time | 67 Min
Gather around the table. This authentic Brazilian soup from Chef Denise is about to fill your bowls and home with mouthwatering tastes and aromas. Flavors from spiced sausage, and veggies combine with peppers, potatoes, herbs and spices to create a soup so hearty and delicious you'll savor every spoonful. Serve with your favorite Brazi Bites Brazilian Cheese Bread to soak in every last drop.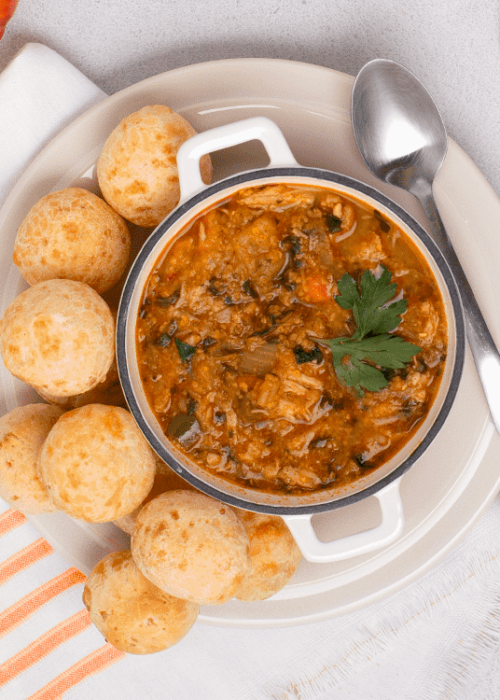 Ingredients
3/4 cup of stone-ground yellow grits (NOTE: Do not use quick-cooking or Instant grits)
Enough water to cover (about 2 inches above)
2 T vegetable oil
1 lb baby back ribs, membrane removed and ribs separated
1/2 lb sausage, cut into rounds (Brazilian linguiça calabresa, Italian spicy Calabrese sausage, or Andouille sausage)
1 medium yellow onion, small diced
4 garlic cloves, minced
1 T salt
2 t sweet paprika
1 1/2 t ground black pepper
1 t ground turmeric
1/2 t cumin
1/8 t dried oregano
1/8 t dried parsley
1/8 t dried basil
8 oz collard greens, shredded or thinly sliced
2 medium tomatoes, small diced
1 green bell pepper, de-seeded and small diced
2 medium Yukon Gold potatoes, cut into medium cubes
1 medium carrot, peeled and sliced
5 cups low sodium chicken or vegetable broth
1/4 cup chopped fresh parsley and green onion mix (or 2 tbsp of each herb)
1

Wash the grits: Place the grits into a large microwave-safe bowl and pour enough water to cover them. Wash the grits and then drain the water using a mesh sieve.

2

Partially cook the grits: Place the grits back into the bowl and cover them with enough water (about 2 inches above). Cook in the microwave for about 4 minutes or pour in enough boiling water to cover and let them soak over the counter. Reserve.

3

Brown the meats: Meanwhile, press the sauté button of your 8-quart Instant Pot or electric pressure cooker. Let it heat for about 2 minutes and then pour in the oil. Brown the baby back ribs and sausage, about 4-6 minutes.

4

Sauté the onion and garlic: Then add the onion and let it cook for about 3 minutes, stirring once and a while. Add the garlic and cook for about 1 minute, stirring occasionally.

5

Season: Stir in the salt, paprika, pepper, annatto, cumin, and dried herbs.

6

Add the vegetables: Stir in the collard greens and let it cook for about 1 minute. Add the tomatoes, bell pepper, potatoes, and carrot.

7

Cook the soup: Stir in the grits and pour in the broth. Cancel the sauté function! Secure the lid, turn the valve to sealing, and set it to HIGH setting for 12 minutes. Let the pressure release naturally, for about 15 minutes.

8

Add the herbs: Remove the lid and adjust seasonings to taste if needed. Stir in the parsley and green onion. Enjoy this soup with your favorite Brazi Bites Brazilian Cheese Bread!

9

NOTES: The final amount of soup broth will depend on the quality of your grits which makes them more or less absorbent. As the soup cools, the grits will absorb more of the broth (just like rice or pasta). Store leftovers in an airtight container for up to 2-3 days. You may have to add more chicken or vegetable broth to the soup (and also adjust the seasonings) when reheating. Do not freeze!
More Recipes
Prep Time | 10 Minutes
Cook Time | 25 Minutes
View Recipe
Prep Time | 16 Minutes
Cook Time | 42 Minutes
View Recipe
Shop Online
Get Brazi Bites delivered straight to your door.
Shop