Colombian Aji Salsa & Empanadas
Prep Time | 10 Min
Cook Time | 20 Min
Serves | 4-5
Choose your favorite flavor of Empanadas to pair with this classic Colombian sauce. It's the perfect mix between a quick relish, hot sauce and pico de gallo.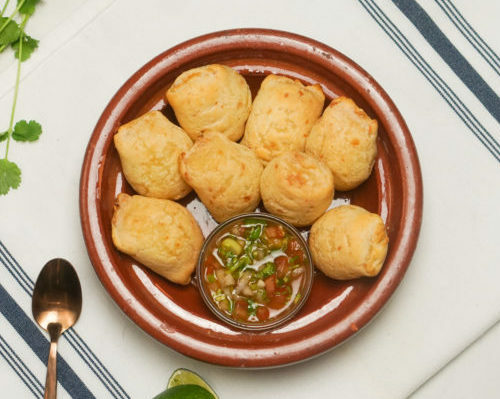 Ingredients
1 bag Brazi Bites Empanadas, flavor of choice
1 C cilantro (chopped)
1 tomato (de-seeded + diced)
½ C white onion (diced)
1.4 C scallions (chopped)
1 t hot sauce of your choosing
¾ C vinegar
¼ cup lime juice
1 tbsp oil
1 t water
1 t salt
¼ t pepper
2

Bake Empanadas based on the package instructions.

3

To make the Aji Salsa, mix together the remaining ingredients in a large bowl.
More Recipes
Prep Time | 10 Minutes
Cook Time | 40 Minutes
Servings | 4-6
View Recipe
Prep Time | 16 Minutes
Cook Time | 42 Minutes
View Recipe
Shop Online
Get Brazi Bites delivered straight to your door.
Shop